Charlotte Hornets
Address: 333 East Trade St., Charlotte, NC 28202
Arena Name: Spectrum Center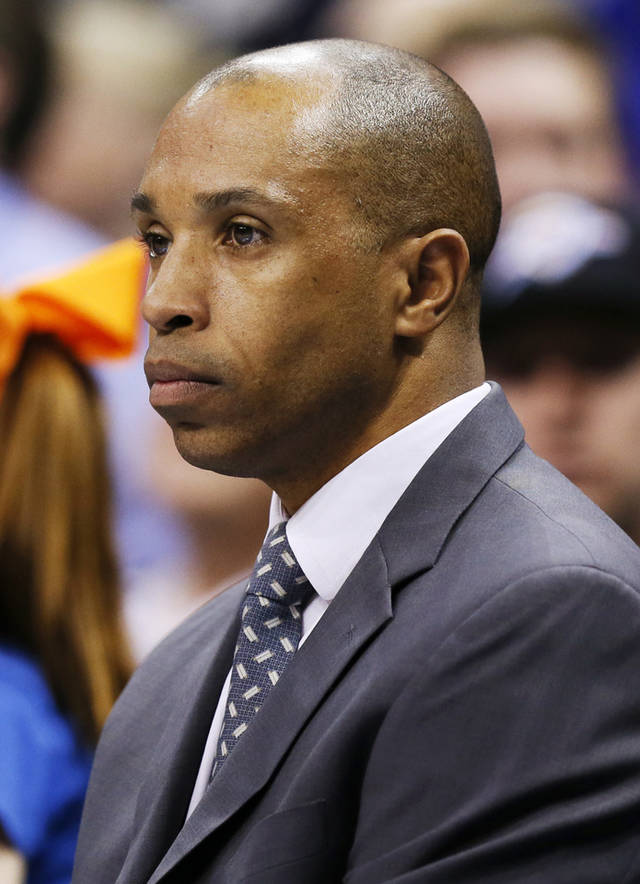 Joe Sharpe
Director of Healthcare & Sports Performance / Head Athletic Trainer
Education: Old Dominion University (M.Ed., B.S.)
NBATA Member Since: 2002
Joe Sharpe returned to Charlotte in 2018 for his second tenure with the Hornets serving as the Director of Healthcare and Sports Performance. A native of Bedford, VA, Sharpe spent ten season with the Oklahoma City Thunder serving as the senior athletic trainer. Sharpe previously spent four seasons as head athletic trainer for the Charlotte Bobcats. Prior to his time in Charlotte, Sharpe was the head strength and conditioning coach/assistant athletic trainer with the Minnesota Timberwolves for two seasons, which included the team's Midwest Division title and run to the Western Conference Finals. Sharpe was the head basketball athletic trainer at the University of Connecticut from 1993-2002, which included the Huskies 1999 NCAA Championship season.

Sharpe has been an active participant with the USA Basketball program dating back to 2002. During the summers of 2012 and 2016, Sharpe won a gold medal while serving as athletic trainer for the men's USA Basketball Olympic team. He won gold while serving as an athletic trainer for the men's USA Basketball teams at the 2010 FIBA World Championship and 2014 FIBA World Cup. His involvement with USAB also includes serving at the Under-18, Under-19, and University World Games.

Sharpe has served as chairman of the National Basketball Athletic Trainers' Association, and is a certified member of the National Athletic Trainers' Association. He is also a certified as performance enhancement specialist (PES) and corrective exercise specialist (CES) with the National Academy of Sports Medicine, a Select Functional Movement Assessment (SFMA) Level 1 & 2 and Functional Movement Screen (FMS) Level 1 with Functional Movement Systems, and a Level 1 Medical Specialist with the Titleist Performance Institute. He has pursued advanced training in dry needling, manual therapy, acupressure and acupuncture.

In 2007, Sharpe participated in the NBA's Basketball Without Borders camp held in Johannesburg, South Africa. Sharpe also regularly speaks to young athletes about performance and health, as well as student groups interested in pursuing careers in sports medicine.

Sharpe developed an interest in athletic healthcare as a three-sport athlete at Liberty High School. He attended Old Dominion University, where he received a Bachelor of Education with emphasis in Sports Medicine, and a Masters of Education with emphasis in Athletic Training.

Joe has two children, Joseph and Jayme.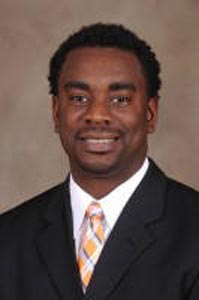 Quinton Sawyer
Associate Head Athletic Trainer
Education: A.T. Still University (DAT), University of North Carolina (MA, BA)
Hometown: Camden, NC
NBATA Member Since: 2016
Dr. Quinton Sawyer began his tenure in 2018 as the Associate Head Athletic Trainer for the Charlotte Hornets. He spent the previous two seasons as Assistant Athletic Trainer and Sports Science Coordinator for the Phoenix Suns. Sawyer also served for five seasons as the head athletic trainer for the Michigan State University's men's basketball team. Prior to his arrival in East Lansing in fall 2011, the Camden, North Carolina native spent two years as the head athletic trainer at Campbell University, where he was responsible for coordination and oversight of all athletic training services for the Division I athletic department. Sawyer joined the Fighting Camel program after spending three years at Southeastern Louisiana University as athletic trainer for the Lions' men's basketball and volleyball teams. Prior to joining the Southeastern staff, Sawyer spent two seasons as a graduate assistant at North Carolina, working with the Tar Heel men's junior varsity basketball team along with the UNC swimming and diving teams. Sawyer was also a game day assistant athletic trainer with the Tar Heel varsity men's basketball team, where he was a part of the 2005 NCAA National Championship run.

A 2004 graduate of UNC, Sawyer spent two summers as a certified intern athletic trainer in the NFL with the Denver Broncos for the organization's training camp, also traveling with the team for all preseason games. Sawyer earned his master's degree in Exercise and Sport Science from UNC in 2006. Sawyer completed his Doctor of Athletic Training (DAT) degree through A.T. Still University in 2017. During the summers of 2004-07, he was a research assistant with JUMP-ACL (Joint Undertaking to Monitor and Prevent ACL Injury), a collaborative multi-site prospective cohort study of neuromuscular risk factors for Anterior Cruciate Ligament (ACL) injuries. The study is projected to enroll over 5,000 subjects and is based in the U.S. Military, Naval and Air Force academies. Sawyer completed a two-week volunteer rotation at the United States Olympic Training Center in Lake Placid, New York during the summer of 2013 where he was the athletic trainer for the Women's Junior National Volleyball Team. Sawyer has volunteered on the medical staff for the Boston Marathon in 2010, 2014, and 2015. Sawyer has spent time with USA Basketball, serving as the athletic trainer for the Men's Select Team in summer of 2021. Sawyer also participated in Basketball Without Borders Africa in Cairo, Egypt in the summer of 2022.

Sawyer has also received several honors throughout his career, presenting his master's thesis and his doctoral research at the National Athletic Trainers' Association symposium. He is a member of the National Athletic Trainers' Association and serves on the Standards Committee for the Commission on Accreditation of Athletic Training Education (CAATE). Sawyer has attained the Performance Enhancement Specialist (PES) and Corrective Exercise Specialist (CES) certifications through the National Academy of Sports Medicine.

Quinton and his wife Lauren are the proud parents to daughters Laila Rebecca and Olivia Coley.
Nina Hsieh
Senior Athletic Trainer
Education: California State University, Fullerton (BS); A.T. Still University (MS)
Hometown: Kaohsiung, Taiwan
NBATA Member Since: 2016
Nina Hsieh began in 2021 with the Charlotte Hornets as the Assistant Athletic Trainer after serving as the Head Athletic Trainer with the Los Angeles Lakers for two seasons (2019-21) and the team's Assistant Athletic Trainer for three seasons (2016-19).

In her previous role, Hsieh oversaw the care, prevention and treatment of injuries to players on the roster and worked closely with the coaching staff and front office to ensure the highest level of performance on the court. She had been with the Lakers organization since 2008 and joined Los Angeles during the 206-17 season after spending seven seasons with the Lakers D-League affiliate. During her time with the Los Angeles D-Fenders, she managed all health & wellness, strength & conditioning programs, equipment as well as all travel scheduling for the official minor league franchise of the Lakers.

Hsieh graduated from Cal State Fullerton in 2000 and spent a semester interning at the NASA base in Florida. In 2003, she earned her Master's Degree in Sports Health Care from AT Stills University. Prior to her time with the LA D-Fenders, Hsieh served as the athletic trainer for the UC-Santa Barbara women's basketball team (2004-08), as well as the men's soccer team (2010-11). She is a certified member of the National Athletic Trainers' Association, National Strength and Conditioning Association (CSCS), and a corrective exercise specialist (CES).

Nina is a native of Taiwan, growing up Huntington Beach CA.
Kayla McKenzie
Assistant Athletic Trainer / Massage Therapist
Education: Concordia University (PhD & MS), University of South Carolina (MSAT), Texas Christian University (BS)
Hometown: Tyler, Texas
NBATA Member Since: 2022
Dr. Kayla McKenzie joined the Charlotte Hornets in 2022 as an Assistant Athletic Trainer and Massage Therapist. In past years, Kayla spent the summer of 2021 with the New Orleans Saints and the summer of 2018 and 2019 with the University of Alabama's football program as an AT intern. Her interest in sports medicine began during her time as a student in high school, where she served as a student-aide for the athletic teams.

She has a wide variety of certifications including being a Certified Athletic Trainer, Performance Enhancement Specialist, Certified Strength and Conditioning Specialist, Corrective Exercise Specialist, Massage Therapist, Dry Needling for Orthopedic Rehab & Sports, and Personalized Blood Flow Restriction Training.

McKenzie earned her Bachelor of Science in Movement Science from Texas Christian University, Master of Science in Sports Performance Training and Sports Nutrition from Concordia University, Master of Science in Athletic Training from the University of South Carolina, and PhD in Applied Exercise Science from Concordia University. Currently, Kayla is pursuing her Doctor of Athletic Training from Ohio University.

Kayla is originally from Tyler, Texas and currently resides in Charlotte, North Carolina.