Houston Rockets
Address: 1510 Polk St., Houston, TX 77002
Arena Name: Toyota Center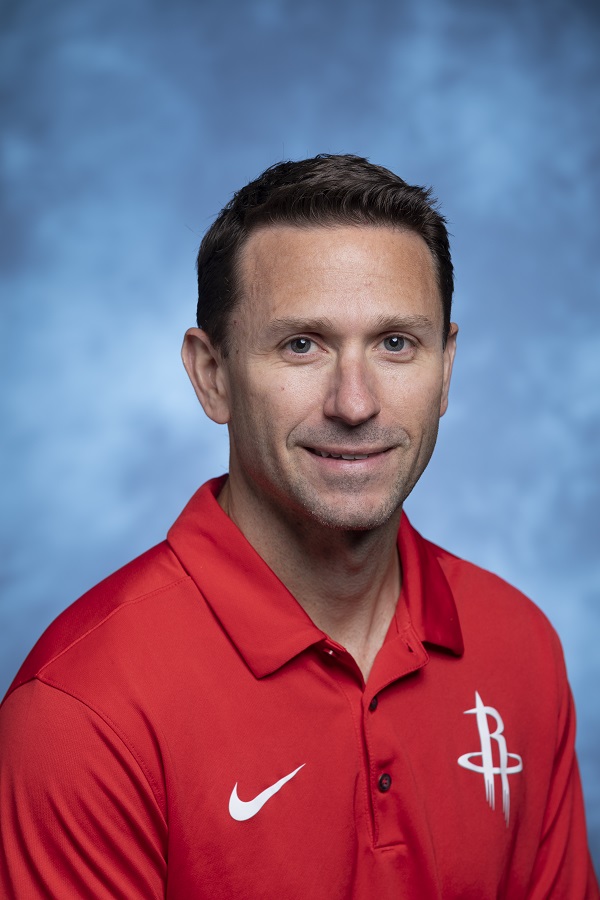 Jason Biles
Head Athletic Trainer / Director of Athlete Care and Science
Education: University of North Florida, Arcadia University (B.S., MPT, DPT)
Hometown: Lakeland, Florida
NBATA Member Since: 2007
Jason Biles joined the Houston Rockets in 2010 and is currently the Head Athletic Trainer and Director of Athlete Care & Science. Prior to working with the Rockets, he worked with the Memphis Grizzlies in 2007 as Assistant Athletic Trainer and Head Strength and Conditioning Coach. Biles received the 2013-14 NBATA David Craig Assistant Athletic Trainer of the Year Award and the Joe O'Toole Head Athletic Trainer of the Year Award in 2017-18.

Prior to the NBA, Biles worked as a physical therapy manager with Athletes' Performance now Exos. He has developed and implemented performance training and rehabilitation programs for a wide range of athletes, including professionals to the NFL, MLB, PGA and ATP. Prior to his work with Athletes' Performance, Biles worked at Bollettieri Sports Medicine Center at the IMG Academies in Bradenton, Florida. He was the lead physical therapist and traveled with professional tennis players, as well as provided rehabilitation for athletes training for the NFL Combine and NBA offseason training programs.

He is a Certified Athletic Trainer (ATC) and has worked for Disney's Wide World of Sports and served as Athletic Trainer for the 2019 and the gold medal 2020 USA Men's National Basketball Team. He is a Certified Strength and Conditioning Specialist (CSCS), a Performance Enhancement Specialist (PES), and a Corrective Exercise Specialist (CES) certified by the National Academy of Sports Medicine. He is a Sports Certified Specialist (SCS) certified by the American Board of Physical Therapy Specialties. Biles is a Fellow of Applied Functional Science (FAFS) granted by the Gray Institute of Functional Training. Biles received his Bachelor of Science in Health (BSH) and Master of Physical Therapy (MPT) degrees from the University of North Florida and completed his Doctorate of Physical Therapy at Arcadia University (DPT).

Biles is married to his wife Julie, and they have two daughters, Makenzie and Delaney.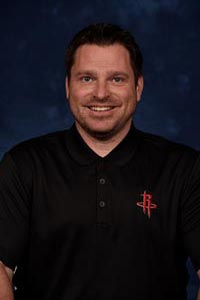 Jeremy Hassler
Education: University of Tennessee (B.S., M.S.)
Hometown: Crossville, TN
NBATA Member Since: 2015
Jeremy Hassler joined the Houston Rockets in 2015 as a Soft Tissue Specialist and Assistant Athletic Trainer. He previously held the position of Soft Tissue Coordinator and Assistant Athletic Trainer at EXOS, formerly Athletes' Performance in Phoenix, Arizona.

Hassler joins the Rockets from the United States Men's National Soccer Team, which includes the 2013 Gold Cup Champions and 2014 World Cup teams. Over his career, he has gained experience working in a variety of professional sports, from MLB Spring Training and NFL Combine to NHL and NFL pre-season preparations. He started his career as an athletic trainer working at EXOS, developing the soft tissue department and recovery protocols for high performance athletes.

Hassler earned both a Bachelor of Science and a Master's Degree in Kinesiology and Exercise Science from the University of Tennessee. He is a dual-licensed athletic trainer and massage therapist with a focus on performance and enhanced recovery methods through soft tissue modalities.

Hassler resides in Houston, Texas.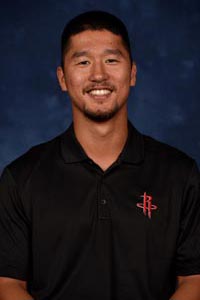 Motoki Fujii
Associate Head Athletic Trainer
Education: University of Texas at Austin (B.S.), A.T. Still University (M.S.)
Hometown: Plano, TX
NBATA Member Since: 2015
Motoki Fujii joined the Houston Rockets as an athletic training intern in 2013 and was named assistant athletic trainer in 2015. Prior to joining the Houston Rockets staff, he earned his Bachelor's of Science in Athletic Training from the University of Texas at Austin, having worked primarily with men's basketball. Additionally, he served as an athletic training intern with the Tennessee Titans in the summer of 2012. Motoki was born in Ibaraki, Japan, and moved to Texas at the age of 5. His interest in sports medicine began during his time as an athlete at Plano West High School, where he ran track and cross-country and played basketball.

Motoki served as the head athletic trainer for USA basketball Americup Championship team in the summer of 2017 coached by Jeff Van Gundy. In addition to being a certified athletic trainer, Motoki is a certified strength and conditioning specialist by the NSCA. In the 2020 he completed his master's degree in Kinesiology at A.T. Still University. In September of 2022 Motoki was promoted as Head Associate Athletic Trainer of the Houston Rockets.

Motoki resides in Houston, TX with his wife Hillary.