Miami Heat
Address: 601 Biscayne Blvd., Miami, FL 33132
Arena Name: FTX Arena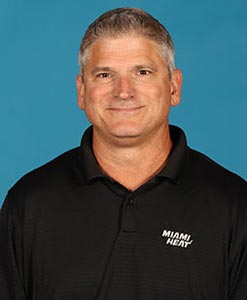 Jay Sabol
Education: Florida International University (M.S.)
Hometown: Miami, FL
NBATA Member Since: 1995
Jay Sabol begins his eighth season as Head Athletic Trainer for the Heat. Taking the post from Ron Culp in 2008, Sabol has spent the last 27 seasons with Miami, including 13 as Assistant Athletic Trainer. In his current capacity, he oversees the entire sports medicine staff to keep the Heat healthy during the regular season, postseason and off-season. Sabol has previously served as the team's equipment manager and assistant strength and conditioning coach, and served as a team attendant for his first five years with the organization. Sabol was born and raised in Miami and graduated from Florida International University in 1992 with a Master's Degree in Exercise Physiology. As Assistant Athletic Trainer from 1992-95, Sabol covered basketball and soccer for FIU, while working games as a training room attendant for the Heat, before joining the team full-time in 1995. He is certified by the National Athletic Trainers Association, National Strength and Conditioning Association, National Academy of Sports Medicine and licensed by the State of Florida Department of Health.

Jay resides in Miami, FL and enjoys collecting muscle cars, fishing and boating in his free time.
Wes Brown
Education: UNC Wilmington (B.S.); Old Dominion University (M.S., Ed)
Hometown: Jacksonville, NC
NBATA Member Since: 2014
Wes Brown has been an Assistant Athletic Trainer for the Heat since 2014 after spending seven years at the University of Miami as associate athletic trainer. His duties include managing the day-to-day health of Heat players during the regular season, postseason and off-season.

During Brown's tenure with the Hurricanes, he provided daily medical care for the men's basketball program as well as the cheerleaders and Sunsations. He also served as an approved clinical instructor for Miami's CAATE accredited Undergraduate Athletic Training Program.

Prior to his arrival at UM, Brown spent five years at UNC Wilmington where he served as the Director of Sports Medicine for three years. Brown is a certified performance enhancement specialist (PES), certified corrective exercise specialist (CES), certified Kinesio taping practitioner (CKTP) and a Level 2 fascial stretch therapist. He also taught classes as an instructor for the Kinesiology department.

A native of Jacksonville, N.C., Brown earned a Bachelor's Degree in Athletic Training from UNC Wilmington in 2000, before earning his Master's Degree in Athletic Training from Old Dominion University in 2002.

Brown and his wife, Alana, have one son, Kayden and one daughter, Ariana.
Brandon Gilliam
Education: University of Tennessee (B.S., M.S.); Belmont University (DPT)
Hometown: Sewanee, TN
NBATA Member Since: 2014
Brandon Gilliam joined the Miami Heat as Director of Rehab and Assistant Athletic Trainer in 2014. Prior to joining the HEAT, Gilliam spent ten years working in private practice outpatient orthopedic physical therapy in Nashville, Tennessee. During his last five years in Nashville he specialized in concierge physical therapy and fitness, consulting with numerous entertainers, collegiate, professional, and Olympic athletes. He also served as an adjunct professor at Belmont University's School of Physical Therapy focusing on orthopedics and sports medicine.

Gilliam holds a Doctorate degree in Physical Therapy from Belmont University and is a NATA Board Certified Athletic Trainer (ATC). Gilliam is SFMA and FMS certified and has lectured both nationally and internationally on the Selective Functional Movement Assessment (SFMA).

A native of Sewanee, Tennessee, Gilliam earned a Bachelor's degree in Exercise Science as well as a Master's degree in Human Performance and Sport Studies from the University of Tennessee where he developed his interest in athletic training while serving as a student athletic trainer for the football and men's basketball programs. He was a student athletic trainer for the 1997 and 1998 Southeastern Conference championship football teams and the 1998 National Championship football team.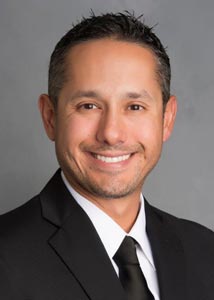 Armando Rivas
Assistant Athletic Trainer
Education: Cal State-Fullerton (B.S.); Cal Poly Pomona (M.S.)
Hometown: Yucaipa, California
NBATA Member Since: 2014
Jeff Bangs
Education: West Chester University
Hometown: Southampton, PA
NBATA Member Since: 2017