New York Knicks
Address: 4 Pennslyvania Plz., New York, NY 10001
Arena Name: Madison Square Garden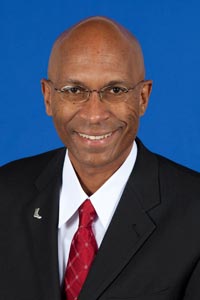 Roger Hinds
Athletic Trainer Emeritus
Education: Brooklyn College (B.A.), Indiana State University (M.S.)
Hometown: Port of Spain, Trinidad
NBATA Member Since: 1996
A veteran of almost three NBA decades, Roger Hinds joined the Knicks in July 2005 as Head Athletic Trainer and currently serving in an Emeritus Role in the organization. Roger is a Big Apple native and is just the sixth head trainer in the franchise's 69-year history, joining Jim Nevins, Don Friederichs, Bill Norris, Danny Whelan and Mike Saunders. Roger served for eight years (1996-97 through 2003-04) as Head Athletic Trainer for the Dallas Mavericks. He joined the Mavs after four seasons (1992-93 through 1995-96) as Assistant Athletic Trainer and Strength and Conditioning Coach for the Atlanta Hawks, serving under longtime Hawks trainer Joe O'Toole. Hinds served as host athletic trainer for the East squad at the 2015 NBA All-Star Game at Madison Square Garden. Hinds is a Certified Athletic Trainer, a Performance Enhancement Specialist, and a Corrective Exercise Specialist.

In 1996, Roger served as Strength and Conditioning coach for the gold medal-winning U.S. Olympic Team in Atlanta. From 2001-2004, he served as President of the National Basketball Athletic Trainers' Association Foundation. He received the Bill Chisolm Ethnic Diversity Award from the NATA in 2015. Roger's interest in Athletic Training was sparked by a visit to Professor Chisolm at Brooklyn College as a sophomore.

Roger was a contributing author of two books: Total Fitness the NBA Way (Perennial Currents, 2000) and Condition the NBA Way (Cadell & Davies, 1994). He works with Alabama-based Nations of Coaches, a Christian-based organization created by former Alabama HS coach Tommy Kyle that helps to enhance coaches' influence on young athletes both on and off the field. In the summers of 2010 and 2011, he traveled to Mexico City to help coordinate basketball clinics for the Eduardo Najera Foundation. In August 2009, he visited his birthplace for the first time in more than three decades and hosted a basketball training workshop for the Trinidad and Tobago Basketball Federation in Port of Spain, Trinidad. He addressed West Point Cadets at Fellowship of Christian Athletes meeting in September 2009 and enjoyed 12-year tenure at the College of Charleston prior to his NBA career. In 2010, Hinds co-hosted an online film-web program for the NBA/Taco Bell Light Menu Initiative, teaming with Brandon Jennings and Basketball Hall of Famer Bob McAdoo. Hinds served as his school's head athletic trainer (1980-1990) and as well as director of sports medicine (1990-1992). He also served as an adjunct professor in the health, physical education and recreation department and as a strength and conditioning coach. In both 2009 and 2010, he served as a guest reader for pre-schoolers as part of City of Newark's Head Start health awareness program for youth and parents. He was a guest speaker at the Magner Career Center on the campus of his alma mater, Brooklyn College.

In May 2018 Hinds was recognized as a distinguished alumnus by his alma mater, Brooklyn College, and was honored to address the graduates at the Commencement ceremonies at Barclays Center in Brooklyn.

Hinds is an avid Knicks fan and was a member of Brooklyn Prep's final graduating class of 1972. He earned his Bachelor of Science Degree in physical education from Brooklyn College in 1977 and his Master of Science Degree in physical education from Indiana State in 1978. Roger and his wife Carmen have four children: Jade, Aja, Andre, and Greg, as well as five grandchildren. The Hinds family resides in Prosper, Texas, and are active in local church activities.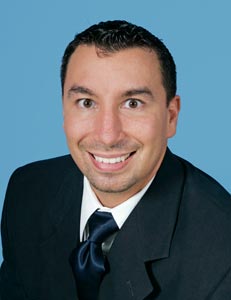 Anthony Goenaga
Head Athletic Trainer
Education: Purchase College (B.S.); Long Island University (M.S.), Arcadia University (D.P.T.)
Hometown: New York, New York
NBATA Member Since: 2004
Anthony celebrates more than two decades with the Knicks, and was promoted to his current role as Head Athletic Trainer in 2020. Anthony works in all areas of medical therapy/treatment, including individual work with players and physical therapy assignments, coordinates and implements individual players' rehab and injury-prevention programs and is responsible for assisting players with acute injuries. He has served as an Athletic Trainer for Knicks' Summer League squad since 2005 and was a member of the Athletic Training Staff for the 2015 NBA All-Star Game at Madison Garden.

Goenaga originally joined the Knicks in 1995-96 as an Athletic Training staff intern, then served as an Athletic Training room attendant prior to his promotion to a full-time Athletic Trainer position during the 2004-2005 season. He was then named Associate Athletic Trainer in 2012-13, and promoted to his current post in 2020-21.

Anthony's NBA training career has spanned the globe. In the summers of 2008 and 2010, he served as an Athletic Trainer for the U.S. Olympic Select Team in Las Vegas. In the summer of 2009, he accompanied a contingent of NBA players and coaches on a league-sponsored goodwill tour of China. In the summer of 2012, he served as Athletic Trainer for NBA's Basketball Without Borders trip to Moscow (served in a similar capacity for NBA's BWB Brazilian trip to Sao Paulo in 2007), and also worked at the 2012 London Olympics. He worked with Carmelo Anthony at the 2012 London Olympics (Gold Medal) and 2016 Rio de Janeiro Olympics (Gold Medal) and at six consecutive NBA All-Star Games (2012-2017). He accompanied a contingent of NBA and WNBA players and coaches to a landmark NBA/FIBA basketball development camp in Cuba, in April 2015.

Anthony is a Certified Athletic Trainer, a Physical therapist, a Performance Enhancement Specialist, and a Corrective Exercise Specialist. He completed his Undergraduate work at Purchase College (Bachelor's degree, Biology, 1997) and Graduate work at Long Island University (Bachelor's degree, health science; Master's degree in Physical Therapy, 2000) and Arcadia University (Doctorate in Physical Therapy, 2019). He became a Certified Athletic Trainer in 2002, completed level one training in Dry Needling Therapy in the summer of 2015, and has worked as a clinician in various physical therapy settings.

A Big Apple native, Anthony speaks fluent Spanish and lives in Thornwood, NY with his wife, Carolina, and their two sons, Aidan and Daniel.
Erwin Benedict Valencia
Assistant Athletic Trainer/Physical Therapist
Education: University of the Philippines, Manila (B.S.); Plymouth State University (M.Ed.); University of St Augustine for Health Sciences (D.P.T.)
Hometown: Manila, Philippines
NBATA Member Since: 2015
Erwin Benedict Valencia is currently the Team Physical Therapist and Assistant Athletic Trainer of the New York Knicks. He also acts as the team's Wellness Lead, initiating the team's first-ever Wellness/Well-Being program, including the first-ever daily in-season Mindfulness, Breathwork, and Intention-setting program in the NBA, a passion he's been personally practicing for more than 30 years. He brings a truly "whole-listic" approach to athlete wellness and care, combining his knowledge in sports science and rehabilitation, manual and movement therapies, mindfulness, positive psychology, biohacking, as well as wellness, and life coaching.

Raised and educated in the Philippines, Erwin is the first Filipino to be on a Medical/Performance staff in all of the four major US sports. Prior to joining Knicks, he was the Major League Rehabilitation Director of the Pittsburgh Pirates for eight seasons. In 2013, he founded the socially-responsible global education company KINETIQ, which changed the way sports medicine workshops were done by bringing an element of personal growth in each of the "Happenings" around the world and launched the first ever co-working space curated specifically for sports performance enthusiasts South Korea in 2016. His social initiative, #BeyondMedyo brings mental health awareness to the underserved youth of the Philippines about the changing landscape of possible successful industries they can get into beyond what culture dictates as "normal", and his non-profit 501(c)3 mentorship program, Grasshopper Project, brings true mentorship possibilities to many in the health, wellness, and performance fields otherwise left without guidance to succeed in the industry. He previously served as the Director of Medical and Performance Services for Baseball New Zealand, and has been a consultant to the South African Baseball Union, Czech Republic National Baseball Team, LG Twins Professional Baseball Team in Korea, and is the Sports Physical Therapy Expert for the Philippine Physical Therapy Association.

He holds a Bachelor of Science degree in Physical Therapy from the University of the Philippines-Manila, a Masters of Education in Athletic Training & Sports Medicine from Plymouth State University, and a Doctor of Physical Therapy degree with a concentration in Manual & Manipulative Therapy from the University of St. Augustine for Health Sciences. He completed post-graduate fellowships at Yale University and Regis University, and holds an Advanced Diploma in Coaching (Executive & Leadership) from New York University and a Graduate Certificate in Applied Positive Psychology at the University of Pennsylvania. He is also in the midst of his Ph.D. focusing on the Impact of Gratitude on Athlete Wellness, Recovery, & Performance at the University of Granada in Spain's Faculty of Clinical Medicine and Public Health. Erwin is a Certified Athletic Trainer, a Certified Strength & Conditioning Specialist, a Performance Enhancement Specialist, a Corrective Exercise Specialist, a Certified Health Coach, a Certified Life Coach, and is completing the NASM's Certified Wellness Coach program.

He begins every day in GRATITUDE and has found it his duty and responsibility to truly live life zestfully-- with the purpose of inspiring young Filipinos (and non-Filipinos) to pursue their dreams, be in service of others, and bring global impact, in whatever field they're passionate about.
Bandele Talib Jr.
Assistant Athletic Trainer
Education: East Stroudsburg University of Pennsylvania (B.S.); California University of Pennsylvania (M.S.)
Hometown: Bronx, NY/Allentown, PA
NBATA Member Since: 2020
Bandele was promoted to his current role as Assistant Athletic Trainer with the New York Knicks in 2020 after six seasons (2014-2019) as the Head Athletic Trainer with the Westchester Knicks of the NBA G League and five seasons (2014-2018) as the assistant athletic trainer with the New York Liberty of the WNBA. He began his career with the Knicks' organization in 2013 as the Seasonal Assistant Athletic Trainer.

Prior to coming to New York, Bandele worked as an Assistant Athletic Trainer at North Carolina Central University in Durham North Carolina, overseeing medical care for the Football, Men's Basketball, and Tennis teams from 2012 to 2013.

From 2011 to 2012, Bandele worked as a year-long intern Athletic Trainer for the Tampa Bay Buccaneers of the NFL. In 2010, Bandele was awarded the PFAT's Minority Scholarship.

Bandele holds certifications in Dry Needling for Orthopedic Rehab and Sports Performance, Personalized Blood Flow Restriction Training, and NASM's Corrective and Performance Exercise Specialist.