Oklahoma City Thunder
Address: 100 W Reno Ave., Oklahoma City, OK 73102
Arena Name: Chesapeake Energy Arena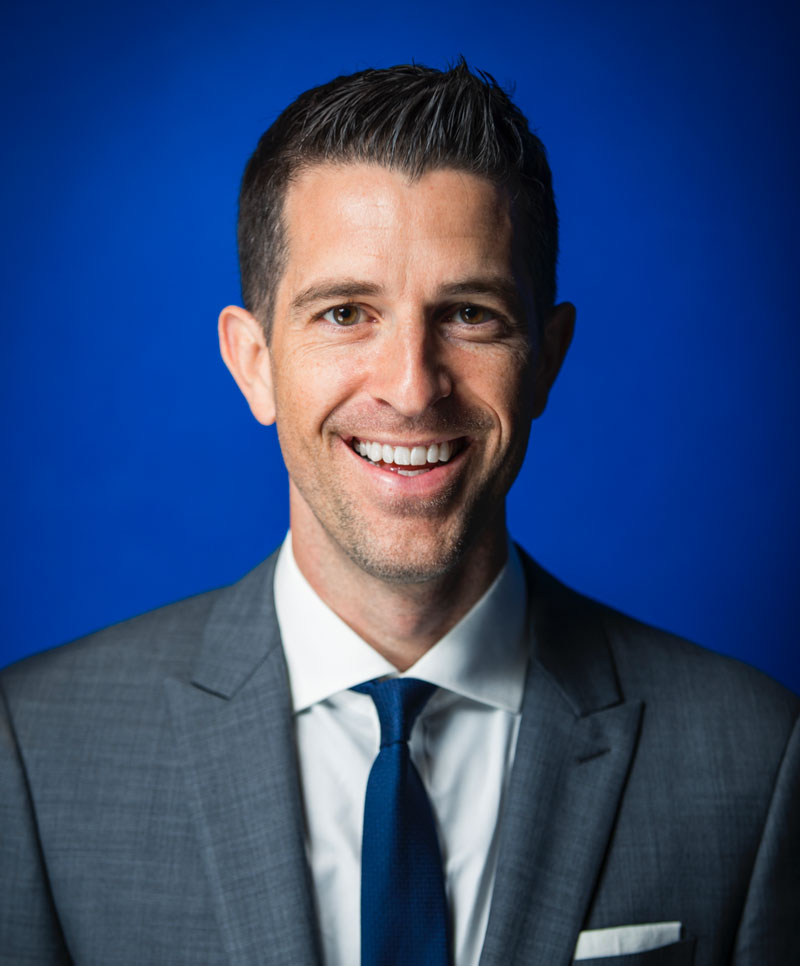 Donnie Strack
Vice President of Human and Player Performance
Education: University of Indianapolis (B.S., DPT)
Hometown: Indianapolis, IN
NBATA Member Since: 2008
Dr. Strack began serving with the Oklahoma City Thunder in 2008 as an athletic trainer / physical therapist and is currently the Vice President of Human & Player Performance. He is responsible for leading the medical and performance staff in providing comprehensive, evidence-informed services for Thunder players through innovation, research, and integration of multiple health care, athletic performance and performance science professionals.

From 2005-2008, Strack was in private practice as a physical therapist at Orthopaedic Physical Therapy Services in Wellesley Hills, Massachusetts. Strack graduated with a Doctor of Physical Therapy degree from the University of Indianapolis in 2005. He earned his Bachelor of Science in Athletic Training from the University of Indianapolis in 2002 and was awarded the Athletic Training Department Performance Award that same year.

Strack's first role with an NBA team came in the sixth grade as a ball-boy for the Indiana Pacers, working under NATA Hall of Fame athletic trainer David Craig. He later served as a Graduate Assistant athletic trainer for the Indiana Pacers from 2002-2005. Donnie also served as an athletic trainer during the 2002 World Basketball Championships in Indianapolis and the RCA Tennis Championships in 2001 and 2002.

In 2010, Strack completed his post doctorate fellowship in manual therapy from Regis University. He is board certified in Orthopaedic Physical Therapy (OCS) by the American Board of Physical Therapy Specialties and is a Fellow in the American Academy of Orthopaedic Manual Physical Therapists (FAAOMPT).

Strack is active in the Oklahoma City community, serving on the Board of Directors for Life.Church, a multi-site church with 34 locations across 10 states.

Strack lives in Arcadia, Oklahoma with his wife, Sarah, and their seven children – Ellabeth, Anderson, Lilajean, Evaleigh, Harrison, Islarose and Whitaker.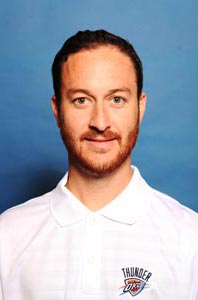 Tony Katzenmeier
Athletic Trainer
Education: Kansas State University (B.S.); Eastern Illinois University (M.S.)
Hometown: Wichita, KS
NBATA Member Since: 2013
Tony Katzenmeier began his career as Athletic Trainer for the Oklahoma City Thunder during the 2013 – 14 season. He previously was the athletic trainer for the Tulsa 66er's, the D-League affiliate for the Thunder. Katzenmeier came to Oklahoma from Santa Monica, California, where he was employed by Athletes' Performance.

Katzenmeier received his Bachelor's Degree from Kansas State University, where he gained experience working with the Wildcats' basketball, baseball and football teams as a student athletic trainer. He then earned his Master's Degree at Eastern Illinois University before being hired on full-time as the institution's athletic trainer. Katzenmeier also has work experience with the Kansas City Chiefs, the New England Patriots, and USA Basketball.

In 2016, Katzenmeier received the "Rising Star" award from Eastern Illinois University for being a distinguished alumni excelling in the field of athletic training. He also has obtained certifications in the Functional Movement Screen, Blood Flow Restriction and Functional Dry Needling. Katzenmeier also maintains memberships with the National Athletic Trainers' Association (NATA).

Tony and his wife, Heather, have two children, Kai and Shay, and live in Edmond, Oklahoma.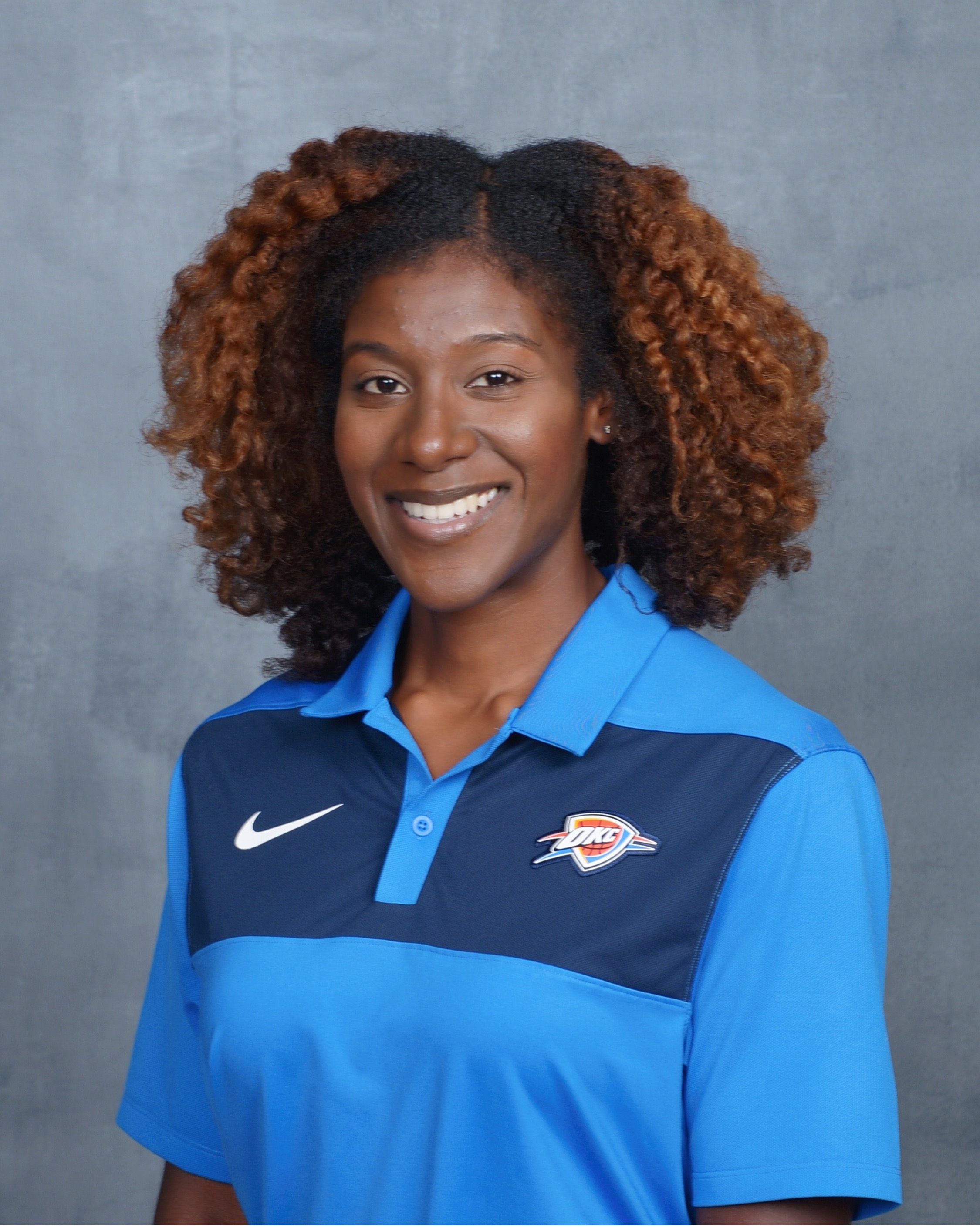 Vanessa Brooks
Physical Therapist / Athletic Trainer
Education: University of Georgia (B.S., A.T.C.); Emory University (D.P.T.); Duke University (Sports Residency); Wake Forest University (Sports Fellowship)
Hometown: Miramar, Florida
NBATA Member Since: 2020
Vanessa Brooks joined the Oklahoma City Thunder as a Physical Therapist and Athletic Trainer in Fall of 2020. She previously served as the Head Athletic Trainer and Physical Therapist for the Oklahoma City Blue, the Gatorade League (G League) affiliate of the Thunder.

Before arriving in Oklahoma City, Brooks worked in Division I Athletics at Wake Forest University while completing her PT Sports Fellowship. In 2019, she became a Board-Certified Clinical Specialist in Sports Physical Therapy. Prior to Wake Forest, Brooks worked in Duke's Sports Medicine Clinic, provided part-time outreach to nearby high schools and a semi-professional football team, along with completing her PT Sports Residency. Brooks co-founded a preventative injury sports medicine program that bridged local Durham AAU basketball teams with Duke Sports Medicine.

Brooks completed her training as an EMT while working in the Ortho-Trauma unit at Grady Hospital and as a Head Athletic Trainer for an Atlanta Public School. Within her two year tenure within Atlanta Public Schools, Brooks started an Athletic Trainers' Union with AFSCME. In Atlanta, she obtained her dry needling and Strength and Conditioning certifications and completed her Doctorate in Physical Therapy at Emory University. At Emory, she received the Francis A. Curtiss Award and The Emory University Division of Physical Therapy Award for community service and excellence in the profession.

Brooks obtained her Bachelor's of Science degree in Athletic Training at The University of Georgia, where she gained her first sports medicine experiences in Equestrian, Women's Basketball, Volleyball, and Football. Within these clinicals, she assisted in data collection and analysis for post-concussion recovery, ACL return to play, and balance strategies for those with Multiple Sclerosis. Brooks received the Dr. Marion Hubert, Soule, and Dr. Butch Mulherin awards for distinguished work ethic, promoting physical activity amongst girls and women, and her commitment to the field of Athletic Training.

Brooks will become a Fellow in the American Academy of Orthopaedic Manual Physical Therapists (FAAOMPT) in June of 2021.