Portland Trail Blazers
Address: One Center Ct., Suite 200, Portland, OR 97227
Arena Name: Moda Center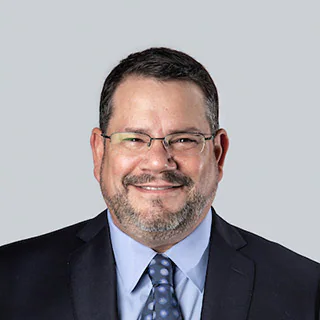 Geoff Clark
Director of Player Health and Performance
Education: Oregon State University (B.S.)
Hometown: Salem, OR
NBATA Member Since: 2005
The 2022-23 campaign marks Geoff Clark's 25th NBA season, all with the Trail Blazers. Clark was named the team's Director of Player Health and Performance in January 2022 after 11 and a half seasons as the Head Athletic Trainer. In his role, Clark leads the Trail Blazers team of medical and performance professionals in providing preventative maintenance and rehabilitative care to players. Clark has been an NATA Certified Athletic Trainer for over three decades following his graduation from Oregon State University in 1990. His experience includes four minor league seasons with the Los Angeles Dodgers and an eight-year physical therapy stint while being assigned to the CBA's Yakima Sun Kings. His extensive volunteer work includes the 1996 Centennial Olympic Games in Atlanta, the 1997 USA Basketball Tournament of the Americas, and time with the US Olympic Committee in 1998 and 1999. Clark earned a gold medal in 1997 with USA Basketball, was named the CBA Athletic Trainer of the Year in 1995, and also received the illustrious Joe O'Toole NBATA Athletic Trainer of the Year 2014. His tenure in basketball operations has created a multidisciplinary role with the team that includes varying sports medicine responsibilities as well as team operations. Clark's Pacific Northwest heritage, being born and raised in Oregon, has created a passion for the wine industry. He holds two internationally recognized wine education awards and is newly credentialed as a sommelier. Clark and his wife, Alisa, have four grown children and reside in Hillsboro.
Jessica Cohen
Head Athletic Trainer/Physical Therapist
Education: Vanderbilt University (BS), University of Arkansas (MS), Northwestern University (DPT)
Hometown: St. Charles, Illinois
NBATA Member Since: 2019
Entering her fourth season with the Trail Blazers, Jessica Cohen was named the team's Head Athletic Trainer in January of 2022. She originally joined the organization as the team's Assistant Athletic Trainer/Physical Therapist in 2019. Cohen arrived in Portland after seven seasons in the WNBA where she spent two years as the Atlanta Dream's Head Athletic Trainer and Physical Therapist following five seasons with the Chicago Sky. During her time in the WNBA, Cohen also worked with the New England Black Wolves of the National Lacrosse League and toured with celebrity performers. Credentialed as both a Certified Athletic Trainer and Licensed Physical Therapist, Cohen is also certified as a Performance Specialist from EXOS and holds her CSCS. She became board certified in Sports Physical Therapy (SCS) in 2021 and board certified in Orthopedic Physical Therapy (OCS) in 2022 by the American Board of Physical Therapy Specialties. Cohen graduated from Vanderbilt University in 2010 with a B.S. in Health Policy and Human Organizational Development where she was also a member of the women's swim team. In 2013, Cohen earned her Master's of Athletic Training at the University of Arkansas and later her Doctorate of Physical Therapy from Northwestern University in 2016.
Micah Smith
Assistant Athletic Trainer
Education: Anderson University (BA), LeTourneau University (MS), California University of Pennsylvania (MS)
Hometown: Indianapolis, Indiana
NBATA Member Since: 2022
Prior to joining the Portland Trailblazers as the Assistant Athletic Trainer, Micah spent one season (2021-2022) as the Head Athletic Trainer for the Wisconsin Herd. He previously served in assistant athletic training roles at Butler University, the University of Arkansas at Little Rock, Howard University, and LeTourneau University.