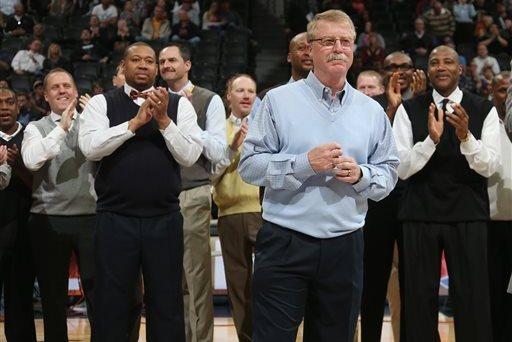 Exit Interview with Legendary NBA Trainer Jim Gillen
Since Jim Gillen started serving as the athletic trainer for the Denver Nuggets at the start of the 1991-92 season, he's seen and done quite a bit.
Attending every single game and practice over the course of 23 seasons—even if two were shortened by lockouts—means a lot of taped ankles (more than 15,000, by his estimate), a lot of players who have limped off the court with the support of a shoulder and, above all else, a lot of memories.
There are certain people in the NBA whose brains are so filled with stories that you can't help but pick them, and Gillen is one of those people. Fortunately, I had the opportunity to do exactly that on behalf of Bleacher Report.
Now that the longtime Nuggets veteran is moving on to the next stage of his life and leaving his team behind, he was able to regale me with a few tales about his favorite players and stories of the past, as well as provide me with some insight into the current and future Denver squad.
Between experiencing a prank war with a well-known personality, treating plenty of All-Stars and watching legends enter and leave the Pepsi Center (and the McNichols Sports Arena before that), Gillen has done it all.
The sweater vests will never be forgotten in the Mile High City. Injury Awareness 1 OF 8
Garrett Ellwood/Getty Images B/R: It seems as though the general public and athletes themselves have started to become more informed about injuries, especially concussions, for example. There's more data available to the public and more awareness associated with them. How would you compare the education levels of players from the start of your career versus now?
JG: There's just so much stuff out there now with the Internet and everything, and there's just a lot more information that you have to read through. And because of all that, I think people question things more.
It used to be the athletes had a lot of trust in you. They still do, but there wasn't as much information out there for them to put that little question mark in their mind.
B/R: Now that we're in the playoffs, do things change? Do players start to ignore more serious red flags just for the sake of their team and their reputation?
JG: Yeah, I mean the intensity of the playoffs changes the mentality of dealing with injuries.
That's not to say that athletes don't try to play with injuries during the season, but if you're a player, or in a position like myself, or even the coaches, the playoffs is where you want to get to. So an injury in the regular season, you may be more conservative with resting them a little bit and trying to get rid of it before you get to the playoffs.
But in the playoffs, it's kind of a one-and-done situation, so you're going to have a tendency to push the window a little bit. And you always have someone in my position to make sure they protect the players from themselves and not let them do anything that's going to jeopardize a long-term career or anything like that. Prank Wars with Birdman 2 OF 8
Garrett Ellwood/Getty Images B/R: Do you have any stories about particularly stubborn athletes? The guys who are like, "I don't really want to know what it is. Just tape me up. Let me get back out there."
JG: Chris Andersen, the Birdman, was probably one of the toughest guys we ever had. You know, he would say, "Well, it's a sprained ankle, right?" Well, it's a little more than that, Chris. He'd say, "I don't want to miss games," or whatever. He was always wanting to play with injuries or play no matter what.
He came back from knee surgery one year. He got undercut and actually landed flat on his back and fractured some transverse processes in his vertebrae and had to sit out for about 10 days. I've never seen anybody come back as quickly from that.
He didn't really want any [information]. He figured the less he knew, the more apt he would be to play quicker.
B/R: Was he one of the more enjoyable guys to work with? He seems like quite the character.
JG: He was a lot of fun. He and I are from smaller communities and kind of grew up [in similar places], so we had a lot of fun bantering back and forth, pulling pranks on each other.
His loyalty and his dedication to the organization—and to the team he was playing on, and to the people around him—were pretty much unmatched. He was just a terrific guy to have around, and it's fun to watch him having the success that he is.
B/R: Can you share any of the pranks?
JG: He was messing with me about something; I don't remember what started it.
So I went to his locker. You know, all the guys have five or six pairs of shoes or more that they have in their locker and play games in or practice in. And I tied them all together in probably 30 knots apiece. He had probably 10 or 15 shoes that were all tied together.
And then he came to my office, and we had a bunch of packets with something in them, and he threw those all over my office. And I came around and tied his practice gear and stuff so he couldn't get it out to practice. Equipment guy had to give him more.
So he turned all the furniture in my office upside down, and then I taped his locker shut. We had this plastic tape that I sealed his locker completely shut with. And he moved a bunch of furniture into my office while I was sitting there and closed the door so I couldn't get out.
But it was fun. Players from the Past and Present 3 OF 8
Garrett Ellwood/Getty Images B/R: Speaking of specific players, I'd love to hear you talk about a few of your favorite stars from the past. I know you came in just after the Alex English team broke up, but we've had plenty of big names come through the Pepsi Center.
JG: When I came in, I had fun players.
Dikembe Mutombo was an amazing personality. He and I started the very same year together. Very hard worker. He practiced every day. He played hard. But he was a fun-loving and very smart guy.
Bryant Stith was a terrific guy. And guys like Scott Hastings and Todd Lichti that just helped me learn the ropes of the NBA and helped me along the way when I was younger. Nick Van Exel was a fun guy to work with.
You see them all in so many different ways other than just on the court and in games and stuff. You listen so much, and the list is pretty long. Ryan Bowen was an amazing person to work with. I enjoyed Robert Pack. And we've had some guys in the recent times, over the years, who were just a joy to be around.
The ones from this year, T-Mo [Timofey Mozgov]—all of them, of course—but T-Mo was just a fun-loving guy. And it's fun to watch a guy like him improve and get better. You know, we have the Corey Brewers of the world that you just love to watch play. You love their energy every day.
The list, I mean, I've missed probably 100 of them that I enjoyed. The number of players that I didn't have a good time with, I can probably count on one hand. Danilo Gallinari Update 4 OF 8
USA TODAY Sports B/R: Based on his Twitter presence, it seems like you and Danilo Gallinari have a pretty close relationship?
JG: Well, Gallo has unfortunately been hurt so much over the last few years that he's been in the training room a lot. I enjoy Gallo. He's another one who has a nice outlook on life and is fun to be around.
I think I'm just an easy target for some people like that, for their little Twitter accounts.
B/R: Can you share anything on his recovery [from ACL surgery]?
JG: He's doing really well. He's running. He's jumping. You know, he's very close to being ready now.
When training camp comes around, he'll be ready to go full blast. I anticipate all the guys from this year being very healthy and ready to go next fall. The Inevitable Mount Rushmore Question 5 OF 8
Barry Gossage/Getty Images B/R: So I've got to roll with the same question that everyone seems to be asking this year. And that's got to do with the NBA Mount Rushmore, since you've seen so many players come through the arena, both on the Nuggets and the other teams.
JG: Of all time since I've been in the league?
I don't know how you would have the drawing line, but I would have to go with Hakeem Olajuwon, and of course Michael Jordan. You know, I'm probably going to screw this up some.
John Stockton was amazing. Karl Malone. Am I over the limit?
B/R: That was your four, but it's such a hard question.
JG: That would be something that really I'd have to think about a little bit more.
I did see Larry Bird play right at the first, right at the start of my career. Some of those guys were at the end of their careers.
But Olajuwon for sure. And of course Michael. And Kobe [Bryant] and probably John Stockton. Crazy Travel Stories 6 OF 8
Nelson Chenault-USA TODAY Sports B/R: So with over two decades of experience, I'm sure you've got some crazy stories. And the one from this year that seems to stand out in my head is when the Pacers had their plane break down, then the bus break down, then they got stuck in the bathrooms of that bus. Just anything completely off the wall like that you want to share from your career?
JG: As far as a travel scenario?
We had one happen to us. This was about five or six years ago, I've lost track. We were playing a game in Sacramento, and the game got over, and I have a message on my phone when I get back to the locker room that said, "Please call. We have a weather issue in Denver. Don't know if we're going to be able to fly out."
So I called my coordinator with the airlines at that time, the charter company we were flying with at that time. And they said it looks like the weather in Denver is to the point where you can't get in. Check out some hotels.
I called the Hyatt where we had stayed the night before, and they were booked, and we couldn't get in. And then I called, I spoke to the trainer with the Kings, Pete Youngman, who was a good friend, and he hooked me up. So we had rooms all situated.
So about that time, the charter company called back and said that there's a break. There would be a break in the weather, and we think we can go and get you home. And I said, "Well, are you sure?"
We go ahead and head out to the plane, and I said, "You guys are sure we're going to get home?" He said, "Yeah, the weather's still bad there now, but they're predicting a window of opportunity."
So we take off, and we fly about two hours. And I can feel us kind of circling around, and I'm thinking, "Uh-oh." So I go up to the front and talk to them. And sure enough, the weather has gone bad.
We make an attempt to land, and we dip down real close to the land, and the pilot has to pull up because the visibility is so bad. Long story short, we end up in Colorado Springs.
We land—by now it's about 4:30 in the morning—and I'm able to get a couple of buses over to pick us up. And we head back to Denver. By this time, it's probably 5:00 or 5:30. We get to Monument Hill, and the blizzard has hit the highway system, of course. So now we're stuck in a blizzard. Bus is just plodding through.
We get back to Denver and out to the airport for everybody's cars at 10 in the morning. By this time, the sun is shining bright and the snow is blowing through. We get there at 10 in the morning.
And we play the Lakers that night...and beat 'em.
B/R: Of course it works out that way! When there're so many delays like that, what do the players do? Everyone involved, really. I assume you don't plan on bringing enough stuff to account for a whole night on the road.
JG: A group of players will play cards. Coaches will usually work. Hopefully, after a while, they get to the point where there's some sleeping going on. So you try to sleep.
Everybody always carries a book with them or something that would keep them occupied to a certain extent. But it gets to a point where you run out of that, too, and you just have to sit and hope to sleep or live with it. Direction of the Nuggets 7 OF 8
USA TODAY Sports B/R: I wanted to shift gears and talk about the current team's direction. Injuries played a big part in this season—really at point guard especially—and not having Gallo there seemed to hurt. How soon do you think things will turn around? Are we looking at a contending team next year?
JG: You know, I'm kind of the athlete trainer; I don't know a lot about X's and O's.
But I just look at the way we finished at the end of the year, that group of guys that we had left played so hard, and Coach [Brian] Shaw was able to keep them together. We actually were very competitive in all those games and won several games there toward the end.
So you know that they're headed in the right direction. And you get some of these other people back healthy, and if you can get them all going in the same direction and working together, I think the future may be...I think they can be back in playoff contention for sure.
B/R: It seemed like everyone started to buy into Brian Shaw's systems a little bit more as the year went on. There were some clashes at the beginning, but everything was looking up. His relationship tends to be pretty strong with everyone?
JG: Oh yeah. Brian Shaw is a terrific coach. When it comes to dealing with people, when you're an assistant coach for a lot of years, you know how things are going to be, or what you want them to be. But there's something different about when you move over that one seat to that other position.
It just takes a little while to get all of your philosophies, inputs. You know, you had that one incident with Andre [Miller] that kind of put a dark damper on a lot of things. Maybe some of the stuff got blown out of proportion or whatever as far as how players respond to Coach Shaw.
He recovered from all that, and I think things were on the upswing at the end. Leaving a Career Behind 8 OF 8
David Zalubowski B/R: Now I have to end with a bit of a cliche question here. After so many years—no missed games, no missed practices—what are you going to miss most?
JG: The people.
I've seen enough, but it was amazing that every night, if you think about it, you have the best seat in the house to watch the greatest athletes in the world do their thing.
So I saw a lot of games and all this and that, and I saw important games. But I know what I will miss the most is the interaction and the camaraderie with all the different people. Players, coaches, people on my staff, fans, other athlete trainers around the NBA.
And it's just all the people—the people in the arena. I had a fun relationship with a lot of the cameramen on the Altitude broadcast. The people on TV that always travel with us.
You just...you'll miss the people. And the relationships with all the people is the only thing I would miss.