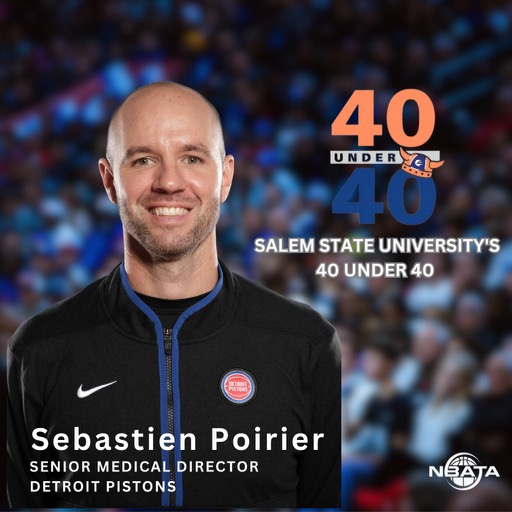 NBATA Member Sebastien Poirier has been named to Salem State's 40 Under 40 List. Salem State University continues its new tradition by celebrating the newest class of young leaders through our 40 Under 40 program.These individuals whose achievements positively contribute to the Salem State difference, either in their professions or communities.
Sebastien Poirier '09 began serving as senior medical director of the Detroit Pistons in 2022 after having spent the previous six years with the Brooklyn Nets. He graduated from Salem State University in 2009 with a Bachelor of Science degree in athletic training. He then earned his doctorate degree in physical therapy at the University of Massachusetts Lowell in 2012.
Sebastien began his basketball career in 2013 with the Oklahoma City Thunder organization where he worked as an assistant athletic trainer with the Thunder and as head athletic trainer of their G-League affiliate, the Oklahoma City Blue. He then spent the next six years with the Brooklyn Nets as the assistant athletic trainer from 2016-2018 and as head athletic trainer from 2018-2022.
In addition to being a licensed physical therapist and athletic trainer, Sebastien is also a board-certified specialist in orthopedics and is pursuing a fellowship in manual therapy.
A diverse panel of judges representing many areas of the Salem State community and selected this class from a pool of talented applicants from the following areas: student life, academic affairs, alumni, and university volunteers.