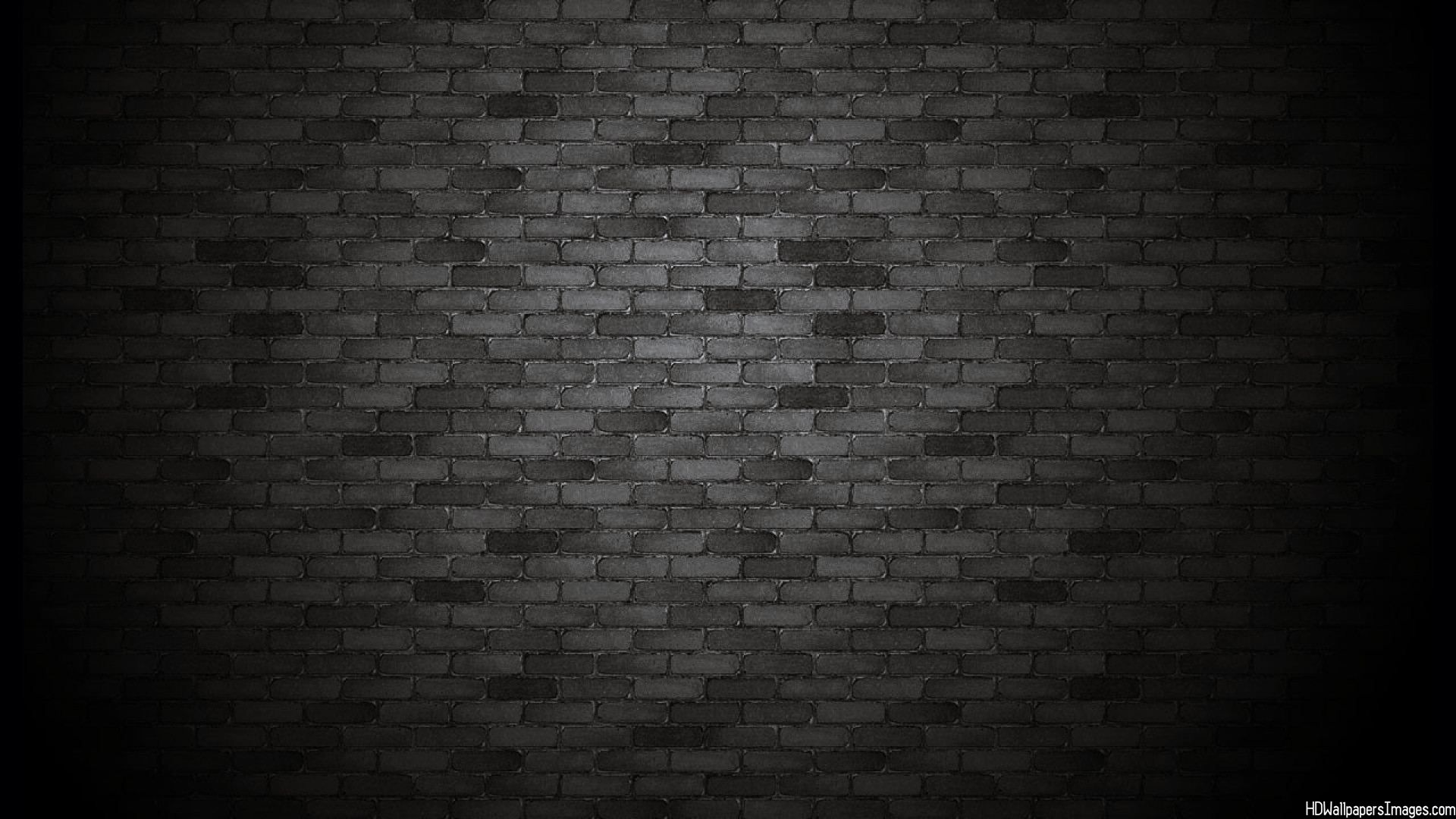 The New York Knicks' Head Trainer, Roger Hinds '77, to Receive Distinguished Alumnus Award at Brooklyn College Commencement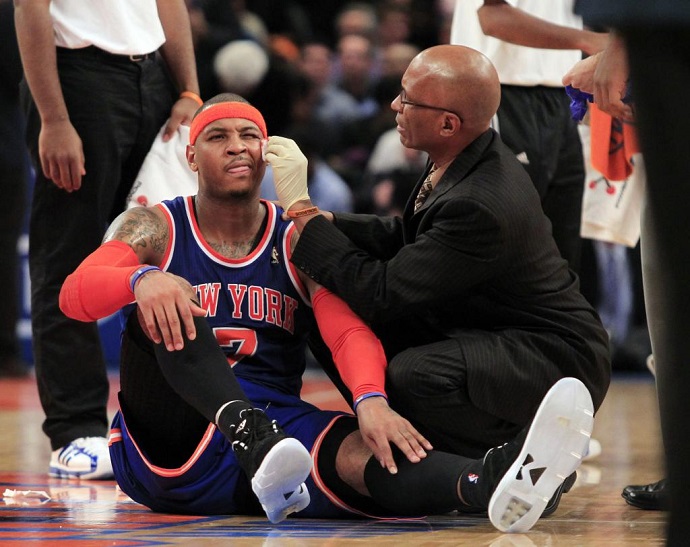 NY Knicks Head Athletic Trainer Roger Hinds '77 tends to injured small forward Carmelo Anthony during a game.
Roger Hinds '77, the head athletic trainer for the New York Knickerbockers (NY Knicks), will receive the Distinguished Alumnus Award at the 2018 Brooklyn College Commencement Ceremony on May 31. For the second year in a row, the ceremony will be held at the Barclays Center. He joins fellow guest of distinction disability rights activist Judith E. Heumann, who will be the keynote speaker and receive an honorary Doctor of Humane Letters.
Hinds has spent more than two decades in the National Basketball Association (NBA) as an athletic trainer for some of the most well-known athletes in the sport. Born in Port of Spain, Trinidad, Hinds moved to Brooklyn with his parents and five siblings at age eight. He was a member of Brooklyn Preparatory High School's final graduating class in 1972. He earned a Bachelor of Science in physical education from Brooklyn College in 1977, and a Master of Science in physical education from Indiana State University in 1978. He became an NATA Certified Athletic Trainer in 1981.
Prior to entering the NBA, Hinds was an avid NY Knicks fan. He enjoyed a 12-year tenure at the College of Charleston, serving as the school's head athletic trainer from 1980 to 1990, and director of sports medicine from 1990 through 1992. He was also an adjunct professor in the College of Charleston's Department of Health, Physical Education, and Recreation.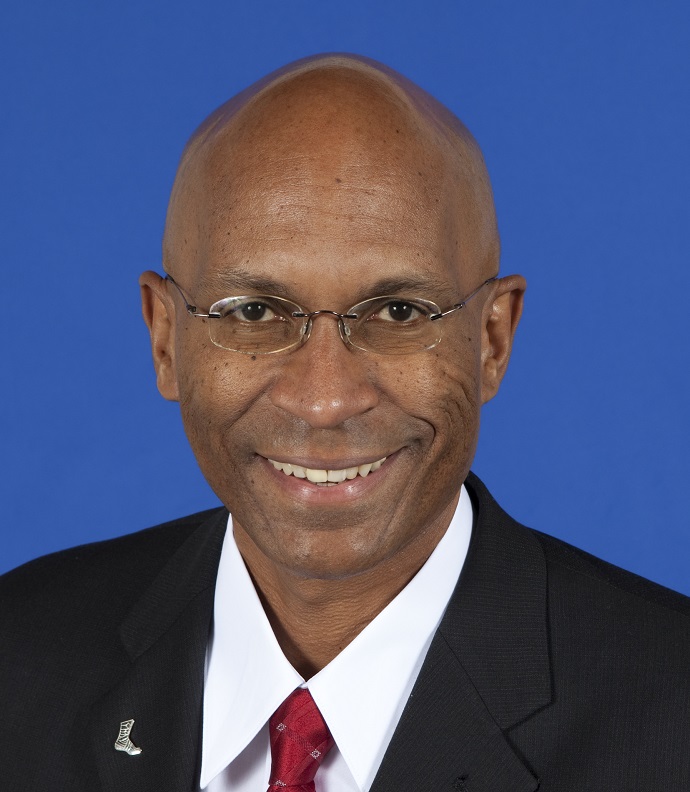 Hinds is the latest recipient of the Brooklyn College Distinguished Alumnus Award, joining such notable figures as former Brooklyn Borough President Marty Markowitz '70 (2005), Grammy Award-winning musician Arturo O'Farrill '96 (2006), and renowned poet and author Sapphire '95 (2010).
Hinds was the strength-and-conditioning coach for the gold medal-winning U.S. Olympic Team at the 1996 Atlanta Games. From 2001 to 2004, he served as president of the National Basketball Athletic Trainers Association Foundation (NBATA), a non-profit charitable organization that promotes the athletic training profession and raises funds for deserving groups and charities. He currently serves as liaison between the NBATA and the National Athletic Trainers' Association (NATA). He is the contributing author of two books: Condition the NBA Way (Cadell & Davies 1994) and Total Fitness the NBA Way (Perennial Currents 2000).
Currently in his 24th NBA season, Hinds spent four seasons as assistant athletic trainer and strength-and-conditioning coach, for the Atlanta Hawks; eight years as the head athletic trainer for the Dallas Mavericks; and also served as host athletic trainer for the East squad at the 2015 NBA All-Star Game at Madison Square Garden. He is entering his 14th season as head athletic trainer for the Knicks. Hinds is just the sixth head trainer in the franchise's 70-year history, joining Jim Nevins, Don Friederichs, Bill Norris, Danny Whelan, and Mike Saunders.
In this NBA/Taco Bell promo, Hinds explains the importance of healthy eating.
In August 2009, Hinds visited his birthplace for the first time in more than 30 years, hosting a basketball training workshop for the Trinidad and Tobago Basketball Federation in Port of Spain. In 2009 and 2010, he was a guest reader for preschoolers as part of the City of Newark's Head Start health awareness program for youth and parents. In the summers of 2010 and 2011, he traveled to Mexico City to help coordinate basketball clinics for the Eduardo Najera Foundation. In 2010, Hinds co-hosted an online web program for the NBA/Taco Bell Light Menu Initiative, teaming with Brandon Jennings and Basketball Hall of Famer Bob McAdoo to promote the partnership between the two corporations.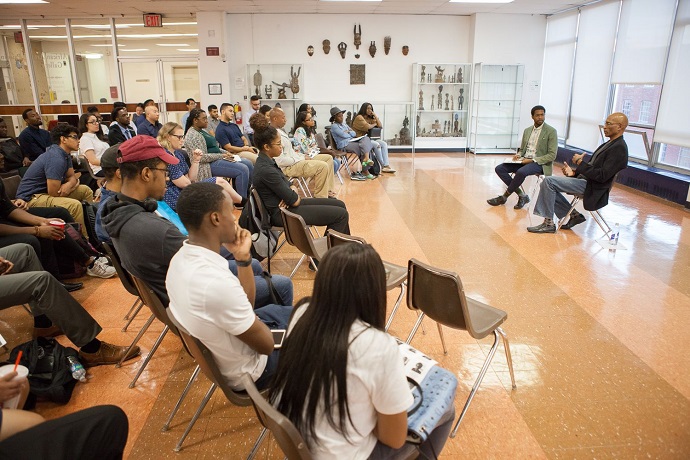 Hinds sat down with Edem Kwakumey '18 in the Brooklyn College Student Center at an event arranged by the Magner Career Center for a wide-ranging interview covering personal and professional advice, the importance of hard work and success, and what he gleaned from his 20+ years of working in the NBA. (Photo by David Rozenblyum)
Hinds is also an active Brooklyn College alumnus. Since 2016, through an alliance with the Magner Career Center, he has taken time to guide current Brooklyn College students and provide them with the benefit of his industry expertise through class visits, panel discussions, and career mentorship.
For the latest on Roger Hinds and his NBA experiences, follow him on Twitter.
http://www.brooklyn.cuny.edu/web/news/bcnews/bcnews_180426.php